Three glimmers of hope for an economic transformation
Ecological economists, top scientists, and even a few financiers have put forth powerful arguments for moving to a steady state economy. Sometimes described as a true-cost economy, a sustainable economy, or a spaceship economy, the steady state offers a positive alternative to the delusion of endless growth.
Viewed from an environmental perspective, the need to transform the U.S. and global economic systems is becoming more urgent by the day — if you scan the headlines about global warming, biodiversity loss, and natural resource depletion, you'll quickly get the picture. It turns out that the most important environmental policies of any nation are its economic policies. For example, there is no chance of stabilizing the ongoing climate chaos if the major economies of the world continue to reward fossil fuel usage and fail to include pollution externalities in their prices. In a true-cost economy, however, clean energy would be the cheapest, and fossil fuels would be too expensive to use.
Given the severity of the problems we face and the strong potential for steady state policies to solve them, the question is, "Why are nations failing to embrace this positive alternative?" There are many obstacles standing in the way of a sustainable economy. The skeptic would assert, "You are asking the most powerful nations in the world to change the cherished economic system they have been functioning under and embrace an economic system which no modern nation has ever used. It is a wild fantasy."
There's some merit to the skeptic's argument — the suggested economic changes seem like a paradigm shift akin to those seen over the centuries in physics and astronomy. But given the unpredictability of paradigm shifts, we can encourage incremental steps toward an economic transformation.
A number of experts have laid out such steps. For instance, the economist Peter Victor has illustrated how Canada could achieve a sustainable economy. But even with a blueprint in hand, it's questionable whether Canada or China or the U.S. or Brazil or India would ever start constructing such an economy.
Part of the problem stems from the international economic infrastructure. The continued push for economic expansion from global bodies such as the World Bank, the IMF , the G-8, the World Trade Organization, undermines intellectual support for the transformation from cowboy economies to spaceship economies.
Another obstacle comes from the extractive industries and the way they exert influence within governmental bureaucracies. These industries are propping up a business-as-usual approach to economics. If this approach continues, we can expect collapses around the world stemming from food and water riots, weather disasters, and ongoing erosion of life-support systems worldwide.
It's tough to come up with plausible ways of overcoming these major obstacles, but three recent developments provide some much-needed hope. They may be long-shots for breaking through the resistance and spurring the transformation to a new true-cost economy, but they offer a chance.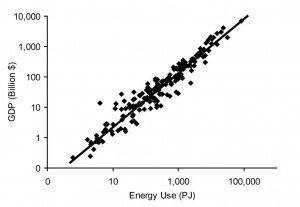 The first glimmer of hope is emerging from the energy changes happening in Germany, which has become the world's leader in electricity produced from solar and wind sources. Germans are aiming to generate half of their electricity from renewable sources within ten years. If the most powerful economies in the world were to replicate Germany's energy policy, it would not only be a shift in the energy sector, but also a monumental shift in economics, given the way economic growth and energy consumption are connected.
The second glimmer of hope comes from growing concern about caring for creation on the part of religious congregations from many faith traditions. More and more religious organizations, liberal and conservative, are pointing to the excessive consumption in the global economy as destroying God's creation. What if Pope Francis surprised everyone and included population stabilization on his agenda. His text could align with Genesis by envisioning a flourishing of all life on earth. That is why the blessing "be fruitful and multiply" is first given explicitly to all the animals on the planet.
A third glimmer of hope is arising from the surge of public outrage over corporate tax dodging and subsidies. Stories of financial fraud and abuse are popping up in the news coverage. The Economist's Special Report on Offshore Finance (February 16, 2013) highlights the trillions of dollars stashed in offshore tax havens.
It's scandalous that some of the wealthiest corporations in the world, such as General Electric, Apple, and Google, are paying little or no income tax. It's equally scandalous that U.S. corporations continue to receive taxpayer handouts. The anger and unrest spurred by this situation offers a good opportunity to change the way businesses operate.
The obstacles to a establishing a true-cost, steady state economy are daunting, but now's the time to get on board with efforts to overcome them. People are responding to the challenge and taking positive actions all over the world. I've summarized three of my favorites here, and I'm hopeful that you know of plenty of other efforts to create an economy that will work for people and the planet.
Editorial Notes:
Photo credit: Agentic Digital Media
What do you think? Leave a comment below.
Sign up for regular Resilience bulletins direct to your email.
Take action!
Find out more about Community Resilience. See our COMMUNITIES page
Start your own projects. See our RESOURCES page.
Help build resilience. DONATE NOW.
This is a community site and the discussion is moderated. The rules in brief: no personal abuse and no climate denial. Complete Guidelines.