The speed of economic growth hinges to a large extent on the supply of fossil fuel, especially of oil and gas, which depends in turn on pipeline capacity. Thus, if we are to turn the tide against economic growth, pipelines are a good strategic place to start. In what follows I focus on the fight against one pipeline in particular.
Spiderwebs of pipelines hold six continents in thrall to climate-wrecking, air-polluting oil and gas. Partly owing to this vast, expanding network, global fossil fuel use continues to rise. In turn, every ton of fossil fuel 'emits' around $7,000 of additional GDP. That economic growth wreaks ecological havoc, well beyond the grievous harms directly related to production and consumption of fossil fuel.1 So stopping new pipelines in their tracks and decommissioning old pipelines quickly can help to unhook society from fossil fuel and GDP growth.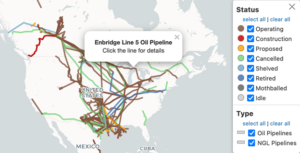 Climate activism has prevented several pipelines from being built on Turtle Island (the continent also known by the non-indigenous name of North America). These are shown as green lines in the map above. They include the Keystone XL (KXL) pipeline, which President Biden canceled on his first day of office. Among existing pipelines, Enbridge Line 5 stands out as a prime candidate for decommissioning. This is because it is especially harmful, and thus especially vulnerable, as described below.
A Diversity of Tactics in the Struggle against Enbridge Line 5
Line 5 runs across northern Wisconsin and the upper and lower peninsulas of Michigan. It carries oil made from tar, which is extracted in a way that uses abnormally large amounts of energy and water and devastates forests in Alberta. It terminates at refineries in Sarnia, Ontario that have turned the area—including the nearby Aamjiwnaang First Nation—into one of the most polluted places in North America.
As it snakes across the upper Midwest, Line 5 invades and degrades Anishinaabe treaty lands and leaks more than 15,000 gallons per year on average. Because of the decaying condition of the 70-year-old pipeline and because of the erosion around it, it is arguably just a matter of time before a catastrophic spill poisons the Great Lakes, which hold more than one-fifth of the world's surface freshwater. And the reality is that, decaying or not, pipeline accidents will occur in proportion to their proliferation.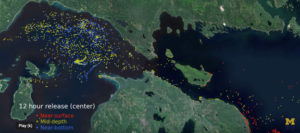 Oil from a simulated Line 5 spill spreads across two Great Lakes between the upper and lower peninsulas of Michigan (David Schwab at the Graham Sustainability Institute)
The extraordinary threats posed by Line 5 have spurred extraordinary levels of resistance. In 2017 the Bad River Band of Lake Superior Chippewa declined to renew the easement that had formerly permitted operation of the pipeline on their Wisconsin reservation. Then, in 2020, the State of Michigan revoked the easement for its operation in the Straits of Mackinac and gave Enbridge 180 days to shut down the pipeline there.
However, no police were called upon to enforce this directive. So on October 19, 2021, and again on July 25, 2023 (the 13th anniversary of a million-gallon spill of tar sands oil caused by another Enbridge pipeline) some people took matters into their own hands—literally—by manually closing pump valves along Line 5. Meanwhile, a grassroots coalition of organizations and individuals has employed a variety of other means to spread the word about the need to shut down the pipeline for good.
Facing down State and Federal Negligence and Complicity
A few months ago, a federal judge ordered Enbridge to shut down Line 5 in the Bad River Reservation by June 16, 2026. He also imposed a token fine on the company for having trespassed there in the years since the easement expired. The court order leaves Enbridge with a large but shrinking window of opportunity—999 days and counting down—to re-route the pipeline outside the reservation.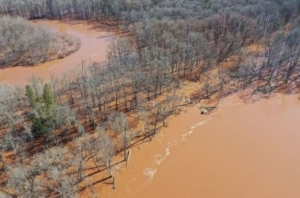 Enbridge can start laying the new pipe to keep Line 5 running only if the project gets permits from various levels of government, including those of Wisconsin and the USA. Activists hope to dissuade these governments from granting these permits. How likely are they to succeed?
In its draft environmental impact statement (EIS), the Wisconsin Department of Natural Resources (DNR) bent over backwards to facilitate the re-route. In that document, the agency ignored the climate impacts of new fossil fuel infrastructure and neglected many other aspects of proper environmental review. Meanwhile, despite canceling the KXL pipeline, the Biden administration has helped make the USA the world's 'planet wrecker in chief,' with plans to expand fossil fuel extraction more than any other country on Earth.
Finally, the government of Canada, where Enbridge is incorporated, has twice invoked an obscure treaty with the USA in an effort to prevent the Bad River Band and State of Michigan from shutting down Line 5. In these communications, the Canadian government ignores the clause in the treaty allowing for protection of the environment against pipelines, not to mention both countries' treaties with Indigenous peoples. This is appalling. But it's not surprising, coming from a government whose leader recently called Canada "a major oil- and gas- producing company—uh, country."
Fortunately, not all government authorities are quite as complicit. As noted above, those of the Bad River Band and State of Michigan have taken some action against Line 5. Eight other tribal governments, and even the U.S. Environmental Protection Agency, have joined with thousands of individuals in calling out the Wisconsin DNR for its shoddy draft EIS. Also, largely thanks to the efforts of the Bay Mills Indian Community, the United Nations Permanent Forum on Indigenous Issues has counseled the USA and Canada to decommission Line 5.
Supporters Uniting across Turtle Island
Support from those involved in struggles against two other Enbridge tar sands pipelines—Lines 3 and 9—has bolstered the fight against Line 5. Individuals and groups engaged in the heroic campaign against Line 3 (now re-named Line 93), which ends where Line 5 begins, have lent tremendous help. For example, the citizen-science group Waadookawaad Amikwag keeps discovering and exposing more cases of damage to aquifers caused by construction of Line 3. That information strengthens the case against the Line 5 re-route project described above.
Those of us striving to stanch the flow of tar sands oil through Enbridge Line 9, which begins where Line 5 ends, are doing what we can as well. For example, last May activists fighting Lines 5 and 9 converged in Ottawa for a demonstration and meeting with a sympathetic Member of Parliament. The figure and caption below depict another example. Increasingly, people from across the Great Lakes watershed and beyond are joining forces to stop the madness.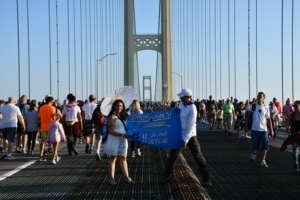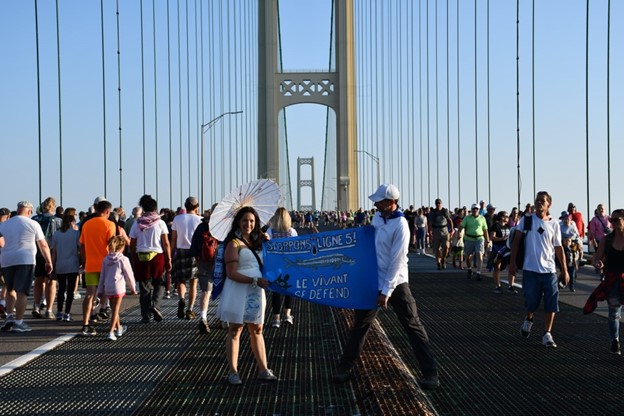 Line 9 activists join the fight against Line 5 at this year's annual Mackinac Bridge Walk. (Michigan Coalition against Tar Sands)
Proponents often cite economic growth as a reason to build pipelines and to keep using them for as long as possible once built. But to a steady stater, economic growth provides a reason not to build new pipelines, and to stop using old ones sooner rather than later. Let's join the ongoing efforts to banish one pipeline after another, thereby cutting down on ecologically disastrous fossil fuel use and GDP growth. Click here to learn more about, and get involved in, the campaign to decommission Enbridge Line 5.
1  Stay tuned for GDP: The Untold Story (Steady State Press, scheduled for 2024) for an analysis of links between GDP growth and nearly two dozen major negative environmental and social impacts.
Teaser photo credit; A photograph captured by an Enbridge drone shows flooding on the Bad River that's caused worsening erosion near the company's Line 5 oil and gas pipeline. Screenshot of images from court filings