Dr. Danielle Ignace has found a way to unify her Native American and Western science identities to better understand big ecosystem changes.
All it took was one college research trip to Colorado's Rocky Mountains for Danielle Ignace to know her intended career path in medicine was the wrong fit. After spending a month in the mountains, she quickly learned she wanted to study ecology.
"I was just kind of hooked," she told The Revelator. "I really wanted to work on these big questions about how climate change and environmental issues impact our ecosystems."
And she has. Trained as a plant physiologist, ecologist and ecosystem scientist, she's been teaching at Smith College in Massachusetts and is also a research associate at Harvard Forest.
But this summer she's taking a new position in the department of Forest and Conservation Sciences at the University of British Columbia in Vancouver. For Ignace, the big jump across the continent is more than a geographic change. She's a member of the Northwest's Coeur d'Alene Tribe, and she says the new position is the first she's found that allows space to incorporate her Native American identity into her work as a scientist.
We spoke to her about what she's learned about our changing ecosystems and why understanding Indigenous voices is so important in that process.
What can you tell us about your research?
I study the impacts of global change, which can mean a lot of different things. In the case of my lab and my work, it really focuses on the impacts of invasive pests or plants and big changes in climate, including precipitation or drought. Those global change factors can act solely or interact with each other and do great damage or have really big impacts for ecosystems.
In particular, I work on ecosystems that are in transition in some way. That could be changing from a system that has high diversity to low diversity, or maybe they're already invaded and they lost a lot of biodiversity in the system.
Most recently I'm looking at the eastern hemlock ecosystems that are transitioning to black birch ecosystems because of invasive pests. I try to understand everything about ecosystem function, but one of my main goals is to understand what's happening with carbon, because that tells us a great deal about whether these ecosystems will be a source or sink for CO2. And that has really big implications for whether they contribute to global warming.
What have you found?
Eastern hemlock forests in the northeastern United States are being destroyed by the hemlock woolly adelgid and the elongate hemlock scale. They have basically created eastern hemlock graveyards with these huge areas of declined or destroyed forest stands.
When this happens we lose out on this very special tree species that's known as a foundation tree species, meaning that it has a very important role for structuring ecosystems and plant communities. Other organisms depend on the special habitat it has created. So there's devastating implications when we lose this particular tree species.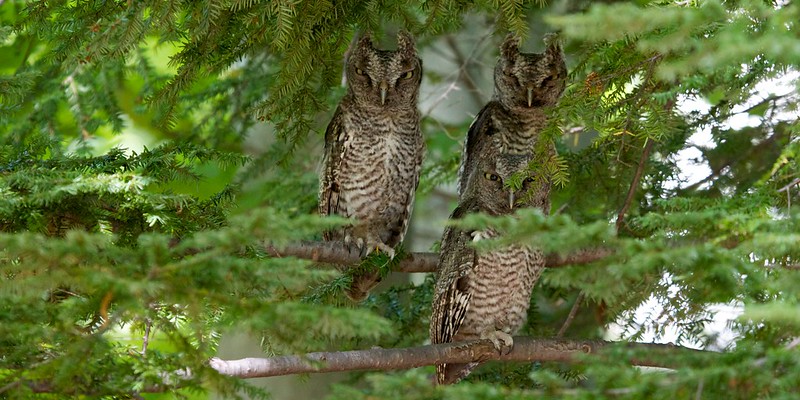 Eastern screech owls in a hemlock tree. Photo: Matt MacGillivray, (CC BY 2.0)
But also, we find typically they get replaced by black birch trees. Eastern hemlocks are evergreen conifers and black birch trees are deciduous, and so they have very different composition in their leaf material. When that foliage falls to the ground, they decompose in very different ways.
With this change, everything gets decomposed a lot quicker. There's faster turnover. We get more nutrients in the soil, but what that means is that we lose the carbon sequestration that was in the soil of eastern hemlock forests. They have a really strong and deep soil organic layer and lots of carbon goes in there. And so when you lose eastern hemlocks, it diminishes that ability to sequester carbon in those forests.
Slide Anything shortcode error: A valid ID has not been provided
The change could take decades to manifest, but the ramifications are huge.
In your new position at the University of British Columbia, will you continue this line of research?
We did such great work with the eastern hemlock system, so I definitely don't want to give that up. I will try to continue that in some way from afar.
I want to still think about how carbon gets stored in ecosystems or moves through ecosystems and what the implications are for climate change, but I also want to now work with Indigenous communities and help amplify or include their voices in the land-use history and land-management dialogues.
That voice has been either erased or excluded for so long and Indigenous communities have really sustainable methods of land-use management that I think need to be highlighted and that could help with communities being more resilient to climate change.
What has your experience been like as an Indigenous scientist?
I have had a very standard path in academia and science that didn't really include my Native American identity or culture. Getting my education and research experiences, and then moving up in academia, I didn't know it could be a thing where we could include Indigenous communities and we could work with Indigenous communities and that somehow, my Native American identity could co-exist with my Western science identity.
People in my science world didn't really want to know the Indigenous perspective. They didn't ask for it. And I felt like there wasn't space to include both of those in my career. I almost left academia a year ago because of this issue.
Have you seen that change? Is UBC, which has also just launched the Centre for Indigenous Fisheries, a better space for that?
Yes, what was really attractive to me about UBC was that they hired all these Indigenous scientists. I think this is a long time coming for them. We have a really great local Indigenous community there and we have Indigenous students, and they wanted to see Indigenous faculty involved in research and serving in leadership roles.
Kudos to them, they've done an amazing job. But it's not typical. Many institutions say it would be good to have more Indigenous faculty, but don't necessarily put their money where their mouth is.
For me, I do feel finally that there's space for my Native American identity and my Western science career to co-exist in the work that I do. Now it's non-negotiable. Coming up in academia I didn't see anyone like me, and I want to help with that.
I think what we're seeing is to really have these kinds of solutions to what's happening with Indigenous communities, who are so impacted by climate change, we need everyone to be involved in that. And that especially includes Indigenous scientists.