Ed. note: This article first appeared on ARC2020.eu. ARC2020 is a platform for agri-food and rural actors working towards better food, farming, and rural policies for Europe.

All hands to shovelling compost. Image © Sims Hill CSA
Small-scale urban farming is a key piece of the food resilience puzzle. In the face of crisis, local growing has proved a reliable ally. For the city of Bristol, a turning point in the local food revolution has been a community growing project called Grow Wilder that is rooted in respect for the soil and a collaborative ecosystem. Ursula Billington reports.
Grow Wilder, a community food and wildlife haven founded on Bristol's urban fringe in 2012, caught immediate attention with its burgeoning produce in a year so wet that established projects reported crops rotting in the ground.
Its secret lies hidden in the rich red depths: the fertile soil of the Blue Finger, a strip of land just 4 miles from the urban centre running parallel to the city's main connecting motorway. This soil is Grade 1 agricultural quality, a prime food-growing resource existent across only 3% of the UK. Defined as "Excellent quality with no or very minor limitations to agriculture. Yields are high and less variable than on land of lower quality" it is clearly a valuable resource – one that Grow Wilder work actively to sustain and protect.
Harvest and the roundhouse at Grow Wilder. Image © Sims Hill CSA
Feeding cities
A mammoth 83% of the UK population lives in urban areas, so ensuring sustainable food security for Britain's cities is crucial. Recently, emerging challenges have aligned to signpost small-scale urban farming as a key piece of the food resilience puzzle. The necessarily urgent response to environmental crises, the impact of the pandemic and Britain's EU-exit have converged to provoke a look inward to the state of our domestic resilience, which in many ways has been found wanting.
In South West England, increasing numbers have been turning to community producers, seeking solutions in supporting local. The solutions found are many, diverse and vital. Urban gardens and allotments support 10x greater diversity of wildlife and pollinators; they build robust, healthy communities; reduced chemical use improves soil and environmental health. Water use and emissions decrease, the local economy is boosted. The positives are endless.
Local growing is part of Bristol's past: the Blue Finger's historical market garden quarter provided urban dwellers with fresh fruit and vegetables. Gradually these peri-urban farms vanished, defeated by the industrialised food system, whilst the amount of land dedicated to urban allotments decreased by 65% in just 50 years.
The return of community growing to this area in the form of Grow Wilder sparked a turning point in the local food revolution. It became a beacon of urban farming success, inspiring questions around local land access; it calmly contested threats from road development schemes, surviving and rebounding stronger than ever; and it has been at the forefront of the response to rising demand for local food in the wake of the pandemic.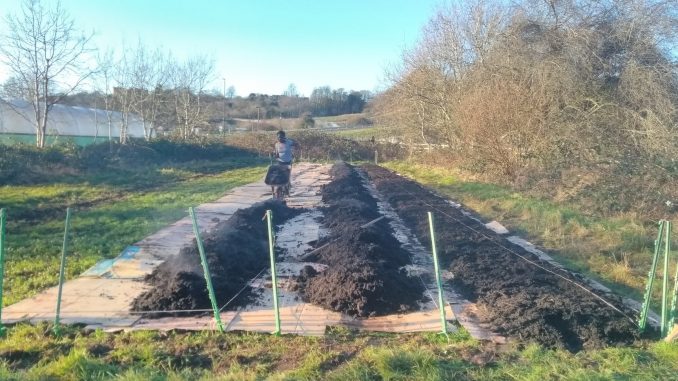 Making progress on the no-dig beds. Image © Sims Hill CSA
Building soil
Grow Wilder project leader Matt Cracknell's approach from the get-go has been organic in principle and rooted in respect for the soil: "Building soil is the cornerstone of increasing biodiversity. We champion good soil management because it supports our whole ecosystem as well as addressing climate change."
No-dig and low-till systems reign across much of the site, affecting soil depth improvements that are reversing the damage done by 60 years of prior intense management. Specifically, Matt says, "We increased soil height by 15cm in the first seven years by adding organic matter. When we took it on, the ground was half a metre below normal but it's now back up to soil ground level."
Shared Harvest – Community Supported Agriculture. Image © Sims Hill CSA
Collaboration
Grow Wilder quickly homed in on a concept emerging as crucial to community food resilience: collaboration. The six-acre site is shared by several small land-based businesses, supporting its overall sustainability through diversity. Grow Wilder houses a thriving CSA scheme, the Edible Futures salad cooperative and Unusual Edibles exotic vegetable venture; a wildflower nursery and medicinal herbalist attract pollinators to the heart of the site and mushroom cultivation supports soil regeneration.
They are joined by resident badgers, foxes, stoats and newts, a herd of Street Goats grazing on-site brambles and, usually, scores of volunteers, school children and visitors attending work days, plant sales and wildlife walks. It's a lively environment, buzzing with vitality.
Wildflowers and blue skies at Grow Wilder. Image © Sims Hill CSA
Access to land
Grow Wilder's approach could well be a workable model for future urban farming: cooperatives splitting land into manageable portions, creating a patchwork of diverse businesses. The model could tackle prohibitive costs of land for new entrants whilst ensuring the various needs of the urban consumer are met and maintaining a healthy, wildlife-rich environment.
Indeed, this is not pure bucolic fantasy: this is what growers desperate to access land have said they want. Bristol Food Producers was established to scale-up local food production, helping to match land seekers with providers after finding that 'land access is one of the biggest challenges facing people getting in to farming.' Their 2016 survey found that over half those seeking land had considered cooperating with other tenants; 62% of those seeking 2 acres and 100% pursuing 5-10 acres actively favour a land partnership.
A thriving polytunnel. Image © Sims Hill CSA
Rapid response to Covid crisis
When pandemic-provoked lockdowns hit Bristol in March 2020, Matt urged urbanites to "use this time to get Bristol buzzing again through our gardens." The Grow Wilder umbrella also supported a practical response as the impact on food security became evident. As supermarket shelves emptied, it was the local growers that sprang into action to meet the needs of people across the city, including an increasing number struggling to feed their families.
A number of ventures on the site were able to respond rapidly to the crisis, diverting produce from retail customers to homes as well as upping production where possible. Sims Hill, the 10-year old CSA scheme employing natural farming and permaculture to their veg box production, gained access to additional land as a result of the Grow Wilder small enterprise model. When Edible Futures managed to quickly secure new land elsewhere to scale up and meet increased demand, Sims Hill took over some of their Grow Wilder plot to increase their own growing.
"I wouldn't say this is something that happens very often!" says Kristin Sponsler, one of Sims' founding Directors. "Access to land for small-scale farmers is very difficult in Britain, especially on any kind of a permanent basis."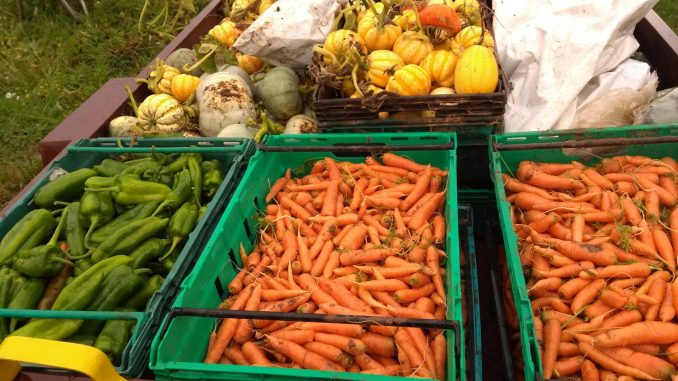 January vegetable harvest. Image © Sims Hill CSA
Support from local council
Kristin describes the "slightly fluky" scenario that enabled Sims Hill to become Bristol's first CSA by establishing a patch of land on the Blue Finger: "It was really the result of special circumstances. The Council wanted to make better use of some of their land currently only used to graze horses, and a small group of growers were looking to establish a CSA. A local food activist helped connect the growers with the Council, who agreed to provide the land for a peppercorn rent if we could get a viable project set up."
"This is not a circumstance that is going to happen every day," notes Kristin. "It involved a lot of hard work by dedicated volunteers and some people willing to subsidise the project before spade hit the ground. It certainly wasn't an easy process."
The Council's support has been a lifeline for those looking to establish agroecology projects around the city, where central government support has been notably lacking.
"I don't feel the current UK government is necessarily a friend to the sustainable food movement," says Kristin, "though I am open to being proved wrong on that one."
Certainly, higher authorities have been at the centre of proposals to pave over Grow Wilder and Sims Hill sites for urban transport development. These moves have been opposed by city councillors and local MPs. Mayor Marvin Rees stated: "We have a responsibility to preserve important green space for local food production, public and environmental good… I would be interested to explore how our publicly-owned land can connect with aspirations for peri-urban farms (and) support any opportunity to develop this."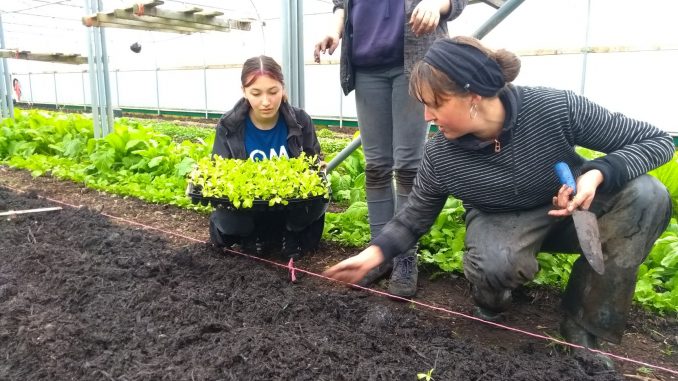 Grower Chloe explains plant spacing to Duke of Edinburgh scheme students. Image © Sims Hill CSA
Viability
The pandemic does appear in some ways to have improved the viability of local food production. It proved a reliable ally in a time of crisis and highlighted the fragility of long supply chains.
"I think there is new momentum, perhaps especially because of food security issues brought up by the pandemic and Brexit," says Kristin. "It seems that people suddenly realised how vulnerable the just-in-time delivery system was. Whereas local food businesses were able to pivot quite quickly to upscale deliveries because of the connection to local food supplies and networks."
It wasn't just Sims Hill that responded rapidly to the surge in demand: local CSA the Community Farm fulfilled orders that had doubled overnight from 550 to 900+ veg boxes; whilst other urban projects, including therapeutic charity Elm Tree Farm and permaculture garden Purple Patch, expanded into vegetable provision in response to the crisis.
Community growers now hope that people will continue to support local. Small-scale producers have limited resources, requiring consistency and commitment to remain viable.
There's agreement that Bristol has become more food-resilient over the last year; the challenge now is to build on these achievements to create long-term systemic change. Feeding Bristol underlines safeguarding healthy living soils as absolutely critical life support in the urban environment.
If Bristol is to create a food system that supports community and environmental resilience, it will do all it can to protect the Blue Finger and open up land to those primed and itching to get growing.