Since it was formed in 2016, FoodWise Leeds (formerly the Leeds Food Partnership) has brought together Leeds City Council, Leeds Food Aid Network (FAN), the University of Leeds, Fareshare Yorkshire and a range of other organisations to improve access to healthy, sustainable and sufficient food for all in the city.  The partnership's work across a range of food issues, from food poverty and nutrition to supporting local businesses earnt the partnership a Sustainable Food Cities Bronze award in 2019.
Emma Strachan, Health Improvement Specialist at Leeds City Council, has seen the partnership's work pay off, particularly with regards to food poverty. "FoodWise Leeds has helped to strengthen partnership working to combat food poverty and insecurity in the city, bringing together a range of partners to take a collective approach" says Emma. "Food has always been recognised as a cross cutting priority for Leeds City Council across the spectrum from poverty, diet-related ill-health, nutritional care, waste, climate change, tourism and public safety. However, since the establishment of FoodWise Leeds, the historical siloed working has evolved into more joined-up action across Council Teams and with a wider range of partners."
173,000 residents in Leeds are thought to be living in poverty, and data from Leeds FAN shows that 33,645 people accessed a foodbank in 2018/19. That's a 21% increase on the previous year. It's why food insecurity in particular is a strong priority for the council. It's also a key focus of the Leeds Poverty Truth Commission – an initiative aiming to bring people with experience of poverty to the heart of the city's work to tackle inequality. Leeds FAN, Fareshare Yorkshire, and Rethink Food, all FoodWise Leeds members, have long been a source of support for local food providers, including foodbanks, soup kitchens, schools and churches, and built a strong network between them.
A collaborative emergency response
The coronavirus crisis was only going to compound Leeds' challenges with food insecurity. Yet years of collaboration have put local agencies in a good place to respond. Leeds City Council was quick to draw on a range of third sector partners for support. Since 16th March this year, it has chaired a weekly emergency food provision meeting, involving a range of third sector partners including FoodWise Leeds.
As well as providing local insight to these weekly meetings, partners have been key to the Council's Emergency Food Response (EFR) system designed to help Leeds's most vulnerable residents access free and paid-for food during the crisis. Residents can access support via a helpline and local welfare support services. Local organisations are playing a key role in referring people to the system. Once referrals are made, residents' needs are rated according to the urgency of their situation. Those in highest need are delivered food parcels via a central warehouse facility jointly operated by the Council, Fareshare and Rethink Food.  At the peak of the crisis the warehouse was delivering 4, 691 parcels a week, which has decreased week on week to 2, 436 as of July 10, with a total of 51, 662 parcels delivered so far. Other residents are signposted to one of 27 local Community Care Hubs. Led by third sector organisations with the help of 2000 local volunteers, each hub is responding to the different needs of their neighbourhoods, yet all offer emergency food provision.
Working with Leeds FAN, We Care Leeds, a network of local business leaders, helped deliver food boxes containing locally donated food to vulnerable people across the city. Leeds FAN made 711 referrals to the service between 19th March and early May, and WCL took further referrals via a Facebook page. £30,000 was raised for the project from donations.
The ongoing EFR system operates alongside Leeds City Council's work with schools to ensure that vulnerable children continue to access free school meals. Schools have offered a range of support from meals to be collected daily, weekly food hamper or supermarket vouchers. By the end of May, the council's catering service was able to deliver 82,339 daily grab bags and 19,536 weekly hampers. Some schools have signed up to national voucher scheme providing parents were entitled to a £15 weekly voucher for each eligible child.
As a diverse city, agencies in Leeds have been collaborating to help residents access food which meets their cultural needs. Local charities Hamara and Give a Gift have established Cultural Food Hubs. These services are helping households access produce including fresh fruit and veg, pulses, seasoning, oils and flours that are specific to a range of communities in Leeds.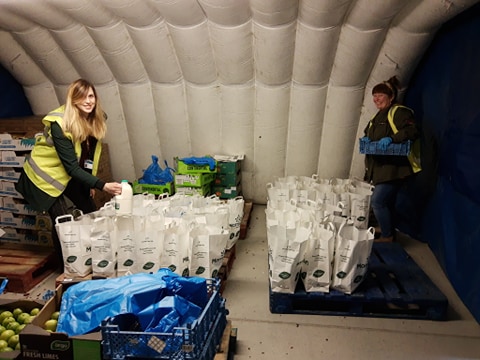 Beyond the emergency
Sonja Woodcock, coordinator of Foodwise Leeds, has been encouraged by the council's emergency food response. "In Leeds we're lucky to have an existing culture of collaboration" says Sonja. "It has enabled partners to pull together and share resources and expertise to deliver a comprehensive response during the crisis. It's been truly impressive." This meant that FoodWise Leeds and its member organisations could contribute knowledge, resources and energy from the outset. Yet it has also meant that during the crisis, FoodWise Leeds has not lost sight of its core aim – to achieve lasting positive change for good food.
A local food economy
Among a range of projects, FoodWise Leeds has been working to support food access models that look to longer term sustainability and support local business. Lean Lunch, a local independent business delivering healthy meals and produce to Leeds businesses and households are active members of the partnership. With support from FoodWise Leeds, they have developed a new service during the crisis. Their new GoodBox vegbox scheme provides fruit, vegetables and other produce sourced from local suppliers, delivered with no packaging or plastics in a zero-emissions electric van. £1 from each box goes to subsidizing a vegbox for families in receipt of Healthy Start vouchers. For each £3.10 voucher they will receive £4.10 of produce at wholesale cost, which equates to about £7-£8 of produce. This initiative is being piloted with a group of families in East Leeds. They will also start providing vegboxes to charities in Inner East Leeds that are supporting the most marginalised communities.
Slide Anything shortcode error: A valid ID has not been provided
Two new local Community Supported Agriculture (CSA) schemes are also being established. In June, Meanwood Valley Urban Farm launched its CSA providing weekly boxes for 6 months to 30 families. They intend to increase to 60 boxes next year. Kirkstall Valley Farm have started production with a view to starting a its CSA scheme next year providing boxes to 60 families. FoodWise Leeds are hoping to help link local CSAs to a new food hub in the city, thereby increasing local households' access to their produce.
#Vegrocks and Healthy Holidays
During the early months of the crisis, FoodWise Leeds used the opportunity of lockdown to engage households with a healthy eating campaign as part of the SFP Veg Cities network.  The #Vegrocks Poster Competition invited families and young people to draw their favourite vegetables, turning them in to fun character, and to display them in their windows. They had 150 entries across the city. Through the competition, 50 households received boxes and microgeren growing kits supplied by local social enterprise Growing Better CIC. The project had strong support from local councillors who sponsored most of the vegboxes.
FoodWise Leeds has recently employed a new Veg Cities campaign officer who will be supporting Healthy Holidays. Aiming to increase families' and young people's access to healthy food over the holidays, the programme was developed in partnership with Leeds Community Foundation, Leeds City Council Public Health, Healthy Schools, Catering Leeds as well as Fareshare, Rethink Food and FoodWise Leeds. In 2019, the programme reached 5,441 young people and 903 parents and carers through 77 community-based partners delivering a range of fun activities, all of which included at least one nutritious meal. This summer the program will be delivered by 31 third sector organizations, 7 Leeds City Councils hubs and 16 schools.
Looking ahead
Whilst the coronavirus crisis has presented extreme challenges and hardship for residents and organisations in Leeds, Sonja Woodcock hopes that the experience has strengthened the cities' movement for fairer, sustainable food. "As we move on from the initial crisis it is important that we continue to build a good food movement in Leeds, encouraging individuals, organizations and businesses to contribute to a healthier and fairer food system for everyone," says Sonja. "This has to include city and regional strategic frameworks as well grassroots actions and opportunities."
Find out more about Foodwise Leeds and contact them via their website.