Unwelcome water, water – everywhere. Again. With recent history repeating itself, vast areas (mostly the floodplains of significant rivers, such as the Wye, Usk and Severn) have been submerged, blighting homes, lives and livelihoods. The latest floods followed incessant and unprecedented quantities of rain falling across much of Britain, beginning last September and continuing into February. But, bear in mind there have been more than a few excessively wet periods, not always in winter, and some scary rainstorms since 2000.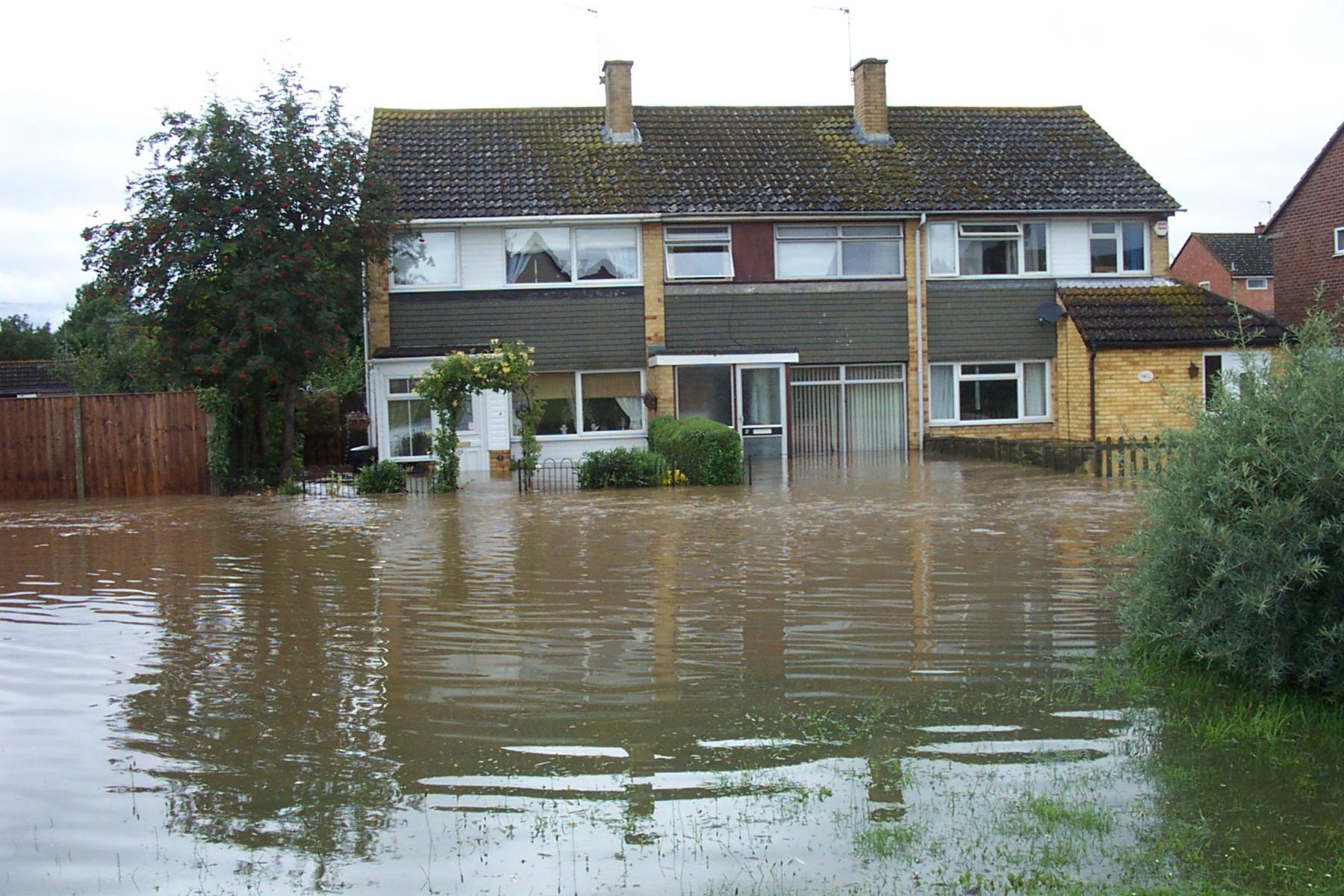 Flooded houses, Thatcham, Berkshire, July 2007
In July 2007, I lived in Thatcham, Berkshire, where 1200 homes were flooded, following 84mm rain falling in a few hours. In this case the water did not spill over from the river, but was from water racing overground, from hill to floodplain, through houses built in places where local people said fields used to flood before these homes had been built. Streams had been lost, and forgotten, in undersized concrete culverts placed under roads and back gardens of new homes. Above the town, Johnny, my farmer friend, had drained his meadow to plant maize and the ancient wood had been razed to the ground, ditched and replanted with bleak conifers. Too many ponies grazed other fields 24/7, leaving soil compacted and incapable of holding back the rain.
There is rarely one reason why so many homes flood.
Land use change and taming rivers have pushed water off the fields into someone else's backyard
Our land has experienced centuries of woodland clearance, decades of overgrazing and burning upland heaths and bogs, and relatively recent 'reclamation' (for intensive farming) of heathy hillsides, scrubby banks, old pastures and floodplain meadows. On heavy clay soils, and where wetlands used to be, land drainage, river canalisation and dredging have enabled farmers to cultivate land where cultivation was considered impossible not that long ago. But getting rid of water from the farmed landscape means it escapes faster into rivers and towards cities, towns and villages downstream.
…traditional drainage, taken to its logical conclusion, contained within it the physical and economic seeds of its own destruction…Jeremy Purseglove, author of Taming the floods
Floodwater in roads, rivers and homes – not just water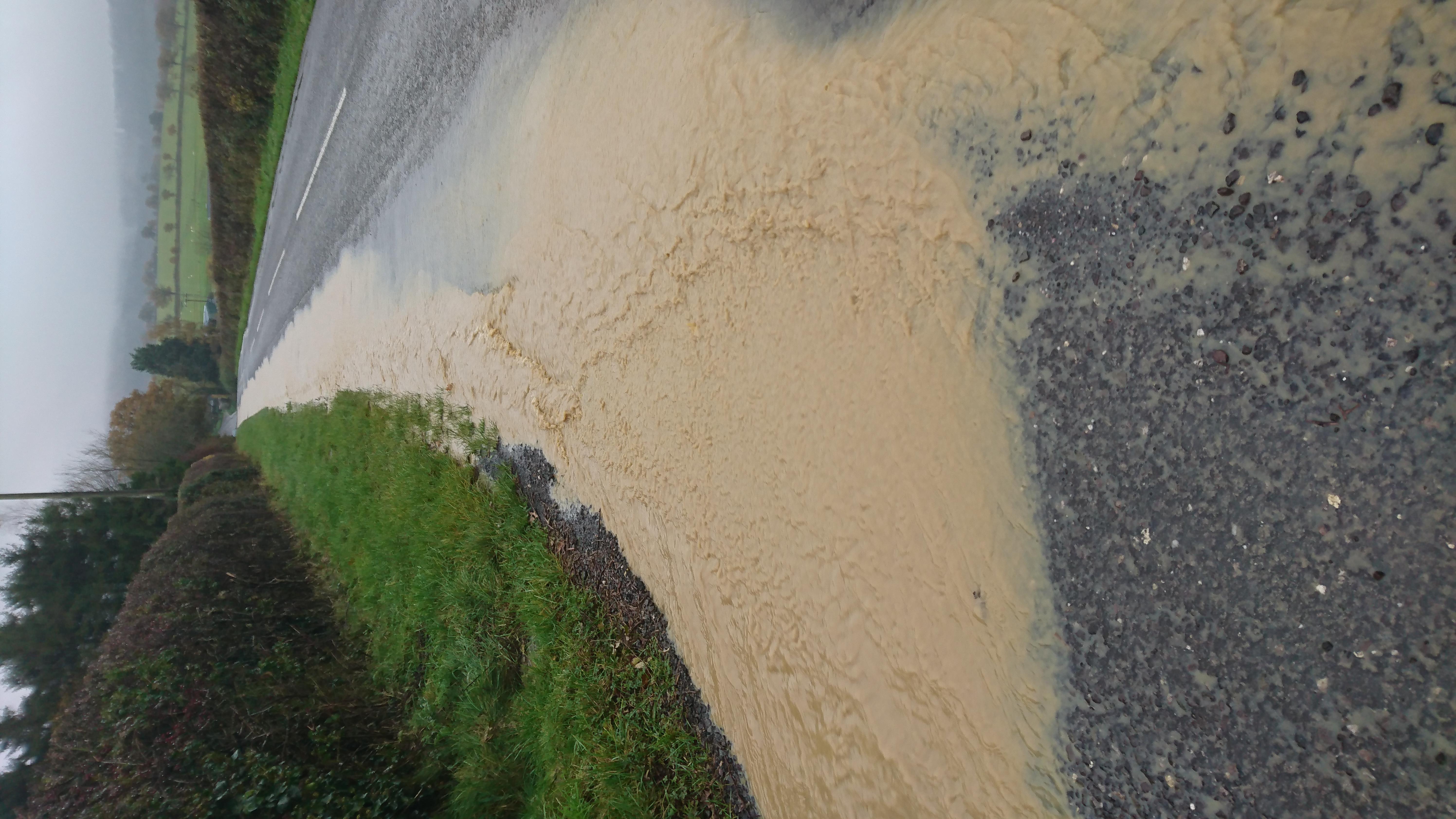 Soil and water running off damaged farmland and into local roads, in Somerset, November 2019
Across pastoral Britain, the vestiges of places where nature and healthy soils had retreated, have largely been replaced by fields that are regularly cultivated, often growing maize or root crops that after autumn harvest leave the soil bare, damaged and exposed to wind and rain. Up to 90% of the rain that falls will run off these fields – compared to 2% from an old pasture. Many more old grasslands have been reseeded with just one type of grass – Perennial Rye Grass or it's cousin, Italian Rye Grass – poor substitutes for the 20-30 different deep-rooted grasses and wildflowers that once existed. These fields, regularly cultivated and resown, are green thanks to regular dousing with artificial nitrogen and excessive quantities of nutrient-rich slurry that dairy farms and other intensive livestock farms generate or digestate from anaerobic digesters that must disposed of all-year-round.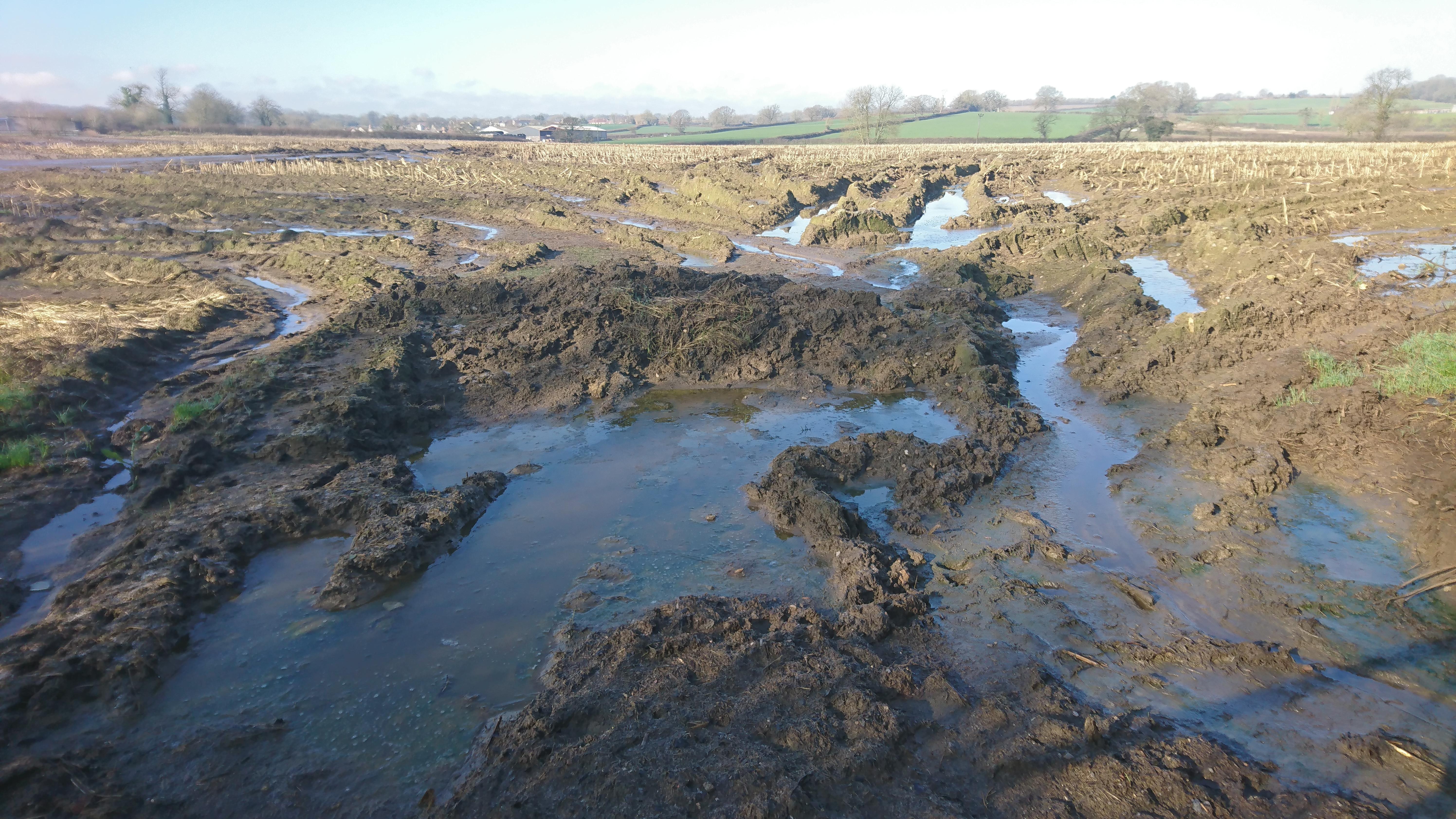 Land damaged by maize-harvesting and winter slurry spreading on bare ground, January 2020
Think giant tractors and heavy tankers, spewing raw sewage across the countryside, often in winter, when the ground is already damaged and waterlogged. When it's a maize field, the soil lying bare and damaged after October harvesting, think waterlogged ruts, and soil-laden runoff rushing through field gates, down roads and into ditches, streams and rivers – and homes.
Using the H.M. British Tea Chart, compare it to the colour of runoff and your river – then join the dots. Colleagues in Devon scored runoff there this winter as 'Iron Brew'. Our local river, the Somerset Frome is currently somewhere between Cuppa Cabana and Brew Ha Ha. It is often this colour, not just this winter.
The folly of building on floodplains
It's time to call a halt on building homes in flood-risk zones.
Farming practice hasn't been the sole reason land and landscapes are increasingly less able to intercept rain and hold water back. On the edges of towns and villages fields, hedges, wetlands and woods have been replaced by houses, roads, warehouses and offices – often built on land prone to, and increasingly at risk of, flooding.
The folly continues – researchers for Greenpeace and The Guardian have revealed that more than 11,000 homes in England are planned to be built on land at the highest risk of flooding in the regions battered by this year's storms. Just last week, an investigation of government data by The Guardian, discovered that one in 10 (84,000) of all new homes in England since 2013 have been built in flood-risk zones. Do we need another Government enquiry into flooding? Sir Michael Pitt's review of the 2007 floods has largely been ignored. Perhaps only litigation will force change – is it time to call up the services of Client Earth?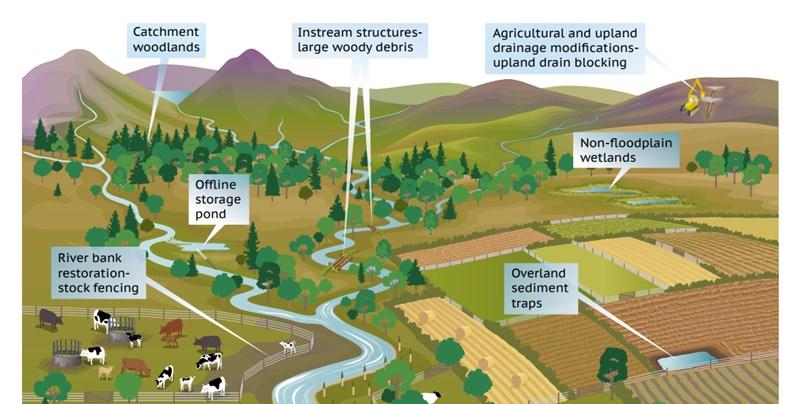 Land use for flood prevention. Image from – www.climatexchange.org.uk
Harnessing the power of nature will reduce the power of floods
The role and importance of nature, and how we use land, is an educational imperative.
Now, 34 years after Jeremy Purseglove wrote his seminal work Taming the flood, it is time to overturn the past 70 years of an increasing disconnection with land and nature that has cost people dear. We must understand and treat land better, whether it is farmed, planted with trees or if it is to be used to build homes and support livelihoods for people. Key to achieving this, is to have in place a programme of sustainable and nature-based land use education, encouragement for behaviour and attitude change as well as big shifts in policies that have contributed to the current sorry state of affairs. By understanding the land and its role in the landscape, everyone can be part of the urgent mission to restore soil, clean up our rivers, produce good food and harness nature for public benefit.
Farmers, foresters and other major land managers are key, while homeowners need to understand that if they deck and pave their gardens, their neighbours may flood and hedgehogs will lose their homes. Developers and town planners need to use land more efficiently, build places that people need and will love, will not get flooded (nor cause flooding elsewhere) and that will embrace nature and hold back the water inevitably generated from roofs, roads and pavements.
Empathy with the land, soil, water in the landscape and nature must also be ingrained in what we do, whether it's the teenager driving the tractor used to flail the hedgerow, the farmer, landowner or homeowner, the town planner or the architect putting together a plan for the next housing estate. Educators and politicians need to be the first to engage and lead in this process. As Britain's agricultural policy is being redesigned, Environment Secretary, George Eustice, yesterday confirmed that the new system of farm support will encourage landowners to manage and use land for flood management.
Time will be the judge.