A roundup of the news, views and ideas from the main stream press and the blogosphere. Click on the headline link to see the full article.

Empty study paves the way for fracking in California
Sara Bernard, Grist
Well, there you have it, ladies and gents: Fracking's just fine! A study found no significant evidence to suggest that fracking and similar extraction techniques are harmful to the environment.
Energy companies poised to dig into California's reserves are breathing a sigh of relief. The findings pave the way for the Bureau of Land Management to resume issuing oil and gas leases on federal land in California next year, following a temporary halt to the practice last year and the defeat of an attempted statewide moratorium on fracking this spring.
But here's the catch: The study didn't contain much information…

Scientists Find 'Alarming' Amount Of Arsenic In Groundwater Near Texas Fracking Sites
Emily Atkin, Climate Progress
After testing 100 water wells atop one of the largest natural gas reserves in the U.S., scientists at the University of Texas have found that nearly 30 percent of them contain levels of arsenic above the limit considered safe by the U.S. Environmental Protection Agency, according to a study published in the journal Environmental Science and Technology.
Twenty-nine groundwater sites within 1.8 miles of active natural gas drilling had unusually high levels of heavy metals, including arsenic, the study found. And while it's not conclusive that the contamination is because of fracking, the team of 11 biochemists say their findings provide further evidence that could link the controversial natural gas drilling technique to groundwater pollution…

Bakken Oil Peak by Jean Laherrère
Jean Laherrère, Peak OIl Barrel
The problem of forecasting future Bakken production is that estimating reserves of shale oil is harder than for conventional oil and is very unreliable because many confuse reserves and resources, and shale oil reserves depend more from economy than from technology. Many estimate the amount of hydrocarbons generated by the source-rock and believe that a significant percentage could be recovered: the study of the main Petroleum Systems in the world estimate than only about 1% will recovered in conventional fields, no more could be expected in unconventional fields.
US Shale gas production started in 1821 in Fredonia for lighting when whale oil price was about 2000 $2014/b, but was replaced by conventional oil in 1859 because a largely lower price.
How to estimate future production?
Drilling activity is a good way to model production with a shift.
In my MIT Paris paper «The end of the peak oil myth» MIT club de France- Paris 28 April 2014, I was convinced that North Dakota oil production will peak within 2014 using a correlation between oil production and shifted number of rigs, guessing the value of the shift and the relationship between rigs and production…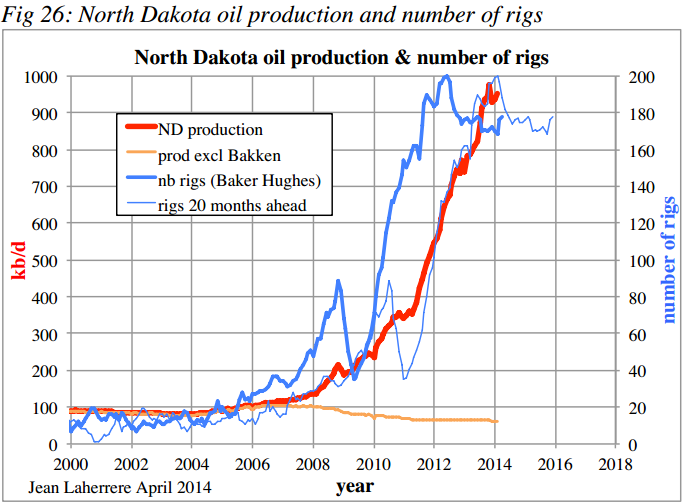 Fracking Link to Birth Defects Probed in Early Research
Isaac Arnsdorf, Bloomberg
The first research into the effects of oil and gas development on babies born near wells has found potential health risks. Government officials, industry advocates and the researchers themselves say more studies are needed before drawing conclusions.
While the findings are still preliminary, any documented hazards threaten to cast a shadow over hydraulic fracturing, or fracking — the process of blasting chemicals, sand and water deep underground to extract fuel from rock that's helped push the U.S. closer to energy self-sufficiency than at any time since 1985…

BP Found Grossly Negligent in 2010 Spill; Fines May Rise
argaret Cronin Fisk, Laurel Brubaker Calkins and Jef Feeley, Bloomberg
BP Plc (BP/) acted with gross negligence in setting off the biggest offshore oil spill in U.S. history, a federal judge ruled, handing down a long-awaited decision that may force the energy company to pay billions of dollars more for the 2010 Gulf of Mexico disaster…
BP, which may face fines of as much as $18 billion, has set aside $3.5 billion to cover those penalties. The company had taken a $43 billion charge to cover all the costs related to the spill, according to a July 29 earnings statement. The ultimate cost is "subject to significant uncertainty," BP said…

China now gets more oil from the Middle East than the US does
Brad Plumer, Vox
China is quickly overtaking the United States as the world's biggest importer of oil. Not only that, but China now buys more crude oil from the Middle East than the US does — a shift that some experts think could have big geopolitical implications in the years ahead…

In Photos: A Massive Oil Spill Is Threatening Mexico's Third Largest City's Water Supply
Rafael Castillo, Vice
For Mexico's state oil giant, the expansion of organised crime into fuel theft is a growing menace. Now, a bungled attempt to illegally tap an oil pipeline has threatened an environmental disaster in the northern state of Nuevo Leon, after an estimated 4,000 barrels of crude oil poured into the San Juan River.
The alleged failed theft on August 16 caused an oil spill of up to 15 thousands tons, according to the national oil company, Petróleos Mexicanos (Pemex). The slick has already advanced five miles, authorities say — and it is feared that rain forecast for the coming days and weeks will spread the contamination further.
The influx of rainwater could send the pollution downstream towards El Cuchillo dam, which provides drinking water to Mexico's third most populated city, Monterrey…

Global [Gas] Flaring Visualization
Skytruth
This tool shows a heatmap of nightly, infrared satellite detections of natural gas flaring across the entire planet, as seen by the VIIRS instrument aboard NOAA's Suomi NPP satellite.

Time to get over cost-benefit analysis
Chris Williams, New Economics Foundation
How government decisions about the environment are made could be about to take a turn for the better.
Don't worry if you haven't heard of the UK National Ecosystem Assessment (UKNEA); it's a colossal environmental analysis report published a few years ago for the government and doesn't make for light reading. But as the first official assessment of what the UK environment is worth to our society as well as our economy, it represents a significant milestone in the road to a more rational approach to how we value resources…

Keystone Redux Haunts Trans Mountain as Fight Shifts to Climate
Jeremy van Loon and Rebecca Penty, Bloomberg
he next fight over oil pipeline development in Canada is starting to look like Keystone XL version 2.0. This time the target is a $4.9 billion project by Houston billionaire Richard Kinder's energy empire.
Kinder Morgan Energy Partners LP (KMP)'s expansion of the Trans Mountain conduit linking the oil sands to the Pacific is facing the same kind of backlash that turned TransCanada Corp. (TRP)'s proposed line to the Gulf Coast into a proxy battle against climate change. As with Keystone, Trans Mountain's opponents argue it would boost development of the oil sands, Canada's fastest-growing source of carbon emissions…

Brazil Vows Water Supply Is Under Control as Basins Dry
Vanessa Dezem, Bloomberg
The state of Sao Paulo is facing its worst drought in eight decades, threatening the water supplies for 20 million people — but you wouldn't know that by asking Brazil's elected officials.
Sao Paulo state is already rationing water for more than 2 million people in 18 cities. The capital city's main reservoir is now at only 12 percent of capacity, according to the water utility Cia. de Saneamento Basico do Estado de Sao Paulo, known as Sabesp. While the utility received a warning at the end of July that it risks running out of drinking water in 100 days, officials vow the situation is under control…

What's behind California's historic drought?
Alastair Leithead, Regan Morris, Jack Garland, and David Botti, BBC


Cataclysm in suburbia: The dark, twisted history of America's oil-addicted middle class
Robert O. Self, Salon
Houses, cars, and children. For a century, they have defined the family economy, and they have driven the national economy. They organize our lives and shape our debts.
Their presence all around us seems so natural, and they are so tightly bound together in how we measure personal milestones and record family stories, we can forget just how recent and fragile their combination is, historically speaking. Developments in the last decade have served to remind us.
When the housing market and the automobile industry crashed between 2007 and 2008, signaling the onset of the Great Recession, two pillars of the national economy crumbled simultaneously. American households lost $16 trillion in net worth, and the federal government rescued major banks and automakers, to ward off an even greater collapse…

Nobel gurus fear globalisation is going horribly wrong (technical)
Ambrose Evans Pritchard, The Daily Telegraph
David Ricardo's Theory of Comparative Advantage has broken down after 200 years, or so I learned at the Lindau forum of Nobel laureates in Bavaria.
The theory published in 1817 has been a guiding principle of free trade, taken as a given by every student of economics in the modern era. It has served us well, but just as Newton's theories ran into limits and were overtaken by Einstein's relativity, comparative advantage no longer explains the world.
Under Ricardo's model, inequality was supposed to narrow within countries as globalisation accelerated exponentially in the Nineties. Instead it is getting wider…

Limits to Growth was right. New research shows we're nearing collapse
Graham Turner and Cathy Alexander, The Guardian
Four decades after the book was published, Limit to Growth's forecasts have been vindicated by new Australian research. Expect the early stages of global collapse to start appearing soon…

Warning over vulnerability of soil carbon to warming
Matt McGrath, BBC
The huge stores of carbon locked in the world's soils are more vulnerable to rising temperatures than previously thought. Researchers found that microbes in the soil were more likely to enhance the release of CO2 in a warming world. Soils from colder regions and those with greater amounts of carbon were seen to emit more as temperatures went up. The research has been published in the journal Nature…

Canadian provinces bypass Harper to make climate a "priority"
Edward King, RTCC
The leaders of Canada's two most populous provinces have decided to bypass the federal government in a bid to enforce tougher climate laws.
In a statement released at the end of August the premiers of Québec and Ontario said they planned to enhance bilateral cooperation on cutting carbon emissions…

UK Scientist Unveils Plan to Make Renewables Cheaper Than Coal Within 10 Years
Alex Kirby , Climate News Network via DeSmog Blog
There are prospects of significant progress in the response of world governments to climate change, according to a former UK Government chief scientist, Sir David King.
"There are signs that a leadership role is beginning to emerge", he told a conference in London held by the Green Economy Coalition.
Sir David also announced that he and a colleague are working with governments to raise funds to help all countries, including developing countries, to switch to renewable energy. Their scheme hopes to raise nearly as much as the cost of the Apollo programme, NASA's moon-landing project…

Climate Scientists Spell Out Stark Danger And Immorality Of Inaction In New Leaked Report
Joe Romm, Climate Progress
One word in the latest draft report from the UN Intergovernmental Panel on Climate Change (IPCC) sums up why climate inaction is so uniquely immoral: "Irreversible."
The message from climate scientists about our ongoing failure to cut carbon pollution: The catastrophic changes in climate that we are voluntarily choosing to impose on our children and grandchildren — and countless generations after them — cannot plausibly be undone for hundreds of years or more….
News clippings image via shutterstock. Reproduced at Resilience.org with permission.