This month marks the second time that land workers in Britain get to hear Leah Penniman in dialogue with environmentalists and food growers, talking about how to build an anti-racist farming movement. We asked co-host of the upcoming talk and co-founder of Land in Our Names (LION), Josina Calliste, to write some personal reflections.
I am an alumna of Soul Fire's farming immersion – a heavily-oversubscribed six day programme designed for Black, Indigenous and Latinx people "to gain basic skills in regenerative farming in a culturally relevant, supportive, and joyful environment." Prior to going to Soul Fire, I'd spent a lot of time doing permaculture courses in Britain and Europe. One could say, 'There are so many places to learn about food production closer to home – what was so special about this particular course?'
Having taken introductory permaculture courses, participated in "Permablitzes", and spent a month on a food forest course in Portugal, I was experienced in being in environments where racial justice was rarely mentioned, all teachers were white, and there was zero mention of African or indigenous farming practices which influenced modern, regenerative or sustainable farming practices. I'd felt previously that I was screaming into the void when it came to recognising the roots of oppression or racial injustice in these spaces.
I co-founded Land in Our Names in June 2019, two months before going to the USA. There's a growing movement of BPoC (Black and People of Colour) bringing an anti-racist lens to nature connection, farming and justice movements focussed on food, land and climate. Although the context for anti-racist activism differs greatly between these different settings, we're learning so much about racial justice from our American cousins. So it felt important to tap into the common understanding shared at Soul Fire Farm, especially for my growth and development as someone new to land activism.
I was lucky to have the income and time off work to be able to afford this trip, but still questioned spending money going all that way – for a mere 6 days farming? (Programme rates are offered on a sliding scale, but flights are still pricey). I further justified the cost by padding out the trip with family visits across the stolen lands in "New England" and a delightful schoolfriend's circus-themed wedding. However, I figured that that no one else had done this course, and there were plenty of learnings I could bring back home to share with others, especially among people who wouldn't be able to afford it. Leah and I chatted about about her upcoming trip to England to give the keynote at the ORFC in January. It felt like the start of something, building a movement that was simultaneously overdue, but that no one was really prepared for.
My urge to go to Soul Fire Farm was proven justified. It was profoundly life-changing for a black woman interested in farming to have our African ancestors' stories of survival and resistance interwoven with classes on how to grow her own food. The open acknowledgement of enslavement as a site of pain is highly relevant for many people in the African diaspora. Especially ones like me, whose families have farming or land work as part of their histories of exploitation and violence.
Upon returning, I held a dinner, where I shared many of my learnings from Soul Fire; attendees were black and brown friends who remain involved or supportive of LION's work. It felt clearer to proudly acknowledge what our task is; to heal ourselves and seek land reparations.
There are millions of BPoC cultivating plants and growing food. Our voices, faces and wisdom are not heard enough in food growing spaces. LION is a young collective, still in the process of seeking out elder voices who come before us, developing healthy working practices and making sure we connect to the right communities. Many of the Black perspectives on land I want to learn from are hard to find. There is never have enough time to read, so as a new land activist, it's super hard to get rid of the imposter syndrome.
In January 2020, I started working on Land in Our Names full-time. I had previously worked in sexual health and for 18 months had my dream job with a small group of queer activists. However, I felt like in the field overall, I'd learned everything I'd wanted to learn. Many people may be questioning whether their job is not serving the immediate needs of our living planet and for me, I knew I had to commit my life to learning how to grow food and expanding land access for everyone. Knowing that my labour contributes to hope of a better future helps fight feelings of desolation, but also means I'm reminded what we're up against every damn day.
Anyone doing racial justice work has to avoid being a "self-narrating zoo exhibit". We will be asked for free consultations on diversity and inclusion by organisations who have not committed resources to anti-oppression in the past. Panic ensued after the latest Black Lives Matter news cycle in June, with many organisations under new scrutiny of their recruiting and working practices. In June 2020, the deluge of requests filling our inboxes jarred with the imposter syndrome I felt. On one hand, I was heartened that people contacted us to ask how they can support us through donations and redistributions, yet annoyed that the much-needed racial justice work had been so chronically underfunded that a young collective like LION could be seen as "existing leaders" in the field.
We don't turn down all requests to speak to majority-white audiences but it's not our central goal. We didn't start to become diversity consultants, and we can't shortcut the long-term work of building anti-oppressive working practices in white spaces. We want to tell BPoC communities in Britain of our dreams, of land for common good, in our (collective) names. What would a land movement in Britain look like if Afro-indigenous ancestral farming practices were at its heart? If people writing food policies were from the communities most affected by food inequalities? For fighting industrial agriculture, black communities need land power. To achieve climate justice, people of colour need to be able to grow their own food. For environmental justice, the spiritual ecologies of indigenous communities should be at the front and centre.
In writing this blog, I'm reminded of the magic of the Soul Fire programmes, and encourage white readers to avoid all notions of  a paternalistic "how can we help them?". Instead, think of how you can support and resource the movement to have our own black-owned farms here. Our goal shouldn't just be trying to get black and brown faces into white places, but uplifting the visionaries who can lead conversations in their own communities. LION's events with BPoC communities ground us in our purpose. The post-ORFC2020 caucus was life-changing for me, and many participants echoed these sentiments. I cannot tell you how important it is that we hear from each other on our own terms, and augment the functions of food producing spaces to encompass political and historical learning and organising.
To battle imposter syndrome, I have a screenshot from the Soul Fire Farm instagram page as the wallpaper on my phone. It's a photo of me and Olá (the other LION co-founder) holding a fluffy chick at Willowbrook.
Underneath, the text reads:
"Today was historic! 40+ UK Black & Brown farmers gathered at @willowbrookfarmers convened by @landinournames[…]We are rooting for Josina, a #soulfirefarm alum, Ola, and the other visionaries catalyzing this land based movement."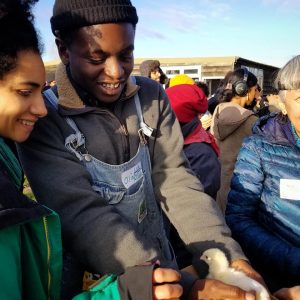 Learn more: 
Land In Our Names: https://landinournames.community
Soul Fire Farm: https://www.soulfirefarm.org
Webinar with Leah Penniman: September 9th, 7pm.