The derailment and explosion of a shale oil train in Canada highlights desperate attempts by refineries along the US/Canada East coast to offset the conventional oil peak of Atlantic basin producers who traditionally supplied them with Brent type crude.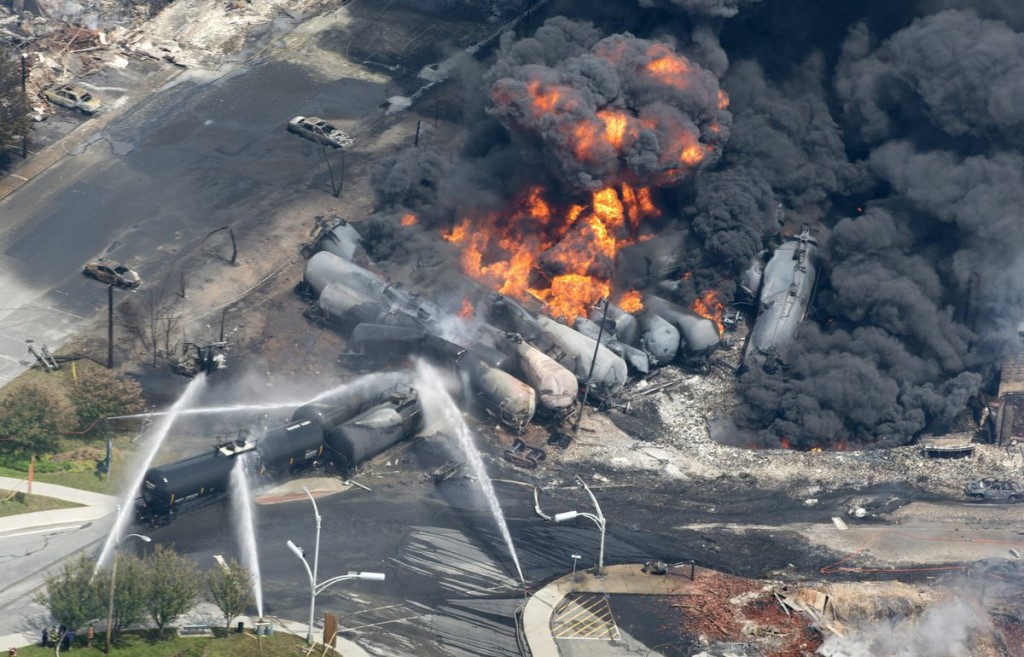 A run-away crude oil train travelling at 100 km/h derailed at a bend in the small Canadian town of Lac Megantic and burst into flames, destroying part of the town centre and killing many people.
The train with 72 cars and 5 locos was left at Nantes for a change of crew at 11:25 pm. Total volume of oil: around 50 Kb.
The rail siding at Nantes. A fire broke out in one of the locos but was extinguished by fire fighters. An hour later, the train starts to move down a 1.2% grade to Lac Megantic, 12 kms away
The train had come on a 3,200 km long trip from the Bakken oil field in North Dakota with its planned destination the Irving refinery in St. John.
The last leg of the trip from Montreal to St John on the Atlantic via Maine
The oil & gas industry sells this as "small footprint"
Desperate times: trucks delivering oil to the loading terminal
Loadout terminal West of Dickinson, North Dakota
Idyllic, peaceful town Lac Megantic (French speaking Quebec province)
The destination of these crude oil trains: the 300 kb/d Irving refinery in St John, New Brunswick, on the Atlantic coast:
The Irving refinery is normally supplied by Brent-type crude imports via a marine terminal.
Why is oil transported over such a long distance by rail? This is amazing as transport costs by rail are high:
26/7/2012
Price differentials and infrastructure are the drivers:
19/3/2013
From the Association of American Railroads
However, 3 months later, another EIA report found:
Lowered Brent (North Sea) prices because Brent-quality crude imports into North America have been displaced by increased U.S. light sweet crude production, reducing Brent-quality crude demand
Raised WTI (Cushing, Oklahoma) prices because the infrastructure limitations that had lowered WTI prices are lessening
So we will see a continuously changing situation where oil is moved around according to the price differences between Bakken/WTI/Brent and related transport costs.
The ill-fated train was destined for a Canadian refinery in New Brunswick. East coast refineries have traditionally imported Brent type of crude from the Atlantic basin. Let's have a look at oil statistics:
Crude production from the main suppliers to Canada started to peak in 1997. After 8 years, in 2005, decline set in. Note that Canada's import decline was much steeper than production decline in these exporting countries.
Therefore it is not surprising that refineries are struggling.
21/6/2013
18/4/2013
Nation building? That comes at a huge cost, not only in terms of those who died in the Lac Megantic accident but also in future as a result of the additional CO2 from unconventional oil. This is an extract from a hearing in the House of Commons:
We know, mainly from the history of the earth, how sensitive the climate system is to changes in the amount of carbon dioxide in the surface climate system. We have records over hundreds of millions of years of how the climate has changed over time and in response to changes in the boundary conditions, which include the atmospheric composition and the surface properties of the planet. That is our best measure of how sensitive the climate system is when you give it time to respond. That is where we come up with the limits on how much we can put into the atmosphere without guaranteeing huge impacts.
When we look at how much carbon there is in the conventional fossil fuels-that means oil, gas and coal-we realise that we cannot burn all those fossil fuels without going way beyond what we have agreed is a dangerous limit. In fact, if we burned all fossil fuels, we would head the planet back to the ice-free state, with sea levels 70 metres higher, 250 feet higher. We realised that we cannot do that.
When we dealt only with conventional fossil fuels, the problem was potentially solvable because, if we would leave most of the coal in the ground, or capture the CO2 when we burn the coal and put it back in the ground, then it was solvable because the conventional oil and gas is finite. There was some hope that, with international agreements, if we began to put a price on carbon, which would move the world toward alternative sources of electricity rather than coal, it was a solvable problem.
Here, however, in addition to these conventional fossil fuels, we have these unconventional oils-tar sands, tar shale, fracking for gas-and the potential amount of carbon in these unconventional oils is huge. If we introduce the tar shale and tar sands as a source and exploit those resources to a significant extent, then the problem becomes unsolvable. We know that you can get conventional oil, which is available in places like Saudi Arabia and Russia, out of the ground for several dollars a barrel. There is no way that we can tell Saudi Arabia, "Don't sell that oil", or tell Russia, "You're not allowed to sell that oil", so we know we are going to get more out of these conventional sources. If we also introduce the unconventional ones then there is no solution other than geo-engineering, which is a terrible fate to will to our children.
So we cannot pretend that we don't know the consequences of digging into these unconventional fossil fuels that, frankly, I had always assumed the world would be smart enough to leave in the ground, because they are more carbon-intensive. The amount of energy you get per unit of carbon is less, and you get all these extra pollutants. It is a very dirty process getting those tar sands out of the ground. You are polluting that region tremendously.
All that has been asked for in this fuel standard is to at least label it and say that we are getting more carbon per unit of energy, and yet some countries are afraid to do that. They are putting a burden on their children and future generations for the sake of what, slightly better relations with a particular party in Canada? It is absolutely crazy, the dynamics that are going on here. It is hard to understand how we cannot get countries to understand what the consequences of that are and what they are trading off.
Refineries along the East coast make desperate attempts to replace shrinking imports of conventional oil from the Atlantic basin with unconventional crude from the US and Canada. It is now very urgent that governments implement strategies to get away from oil, and that can only be urban rail development and electrification.