New peak oil documentary: "Crude Impact"
film website
CRUDE IMPACT is a powerful and timely story that explores the interconnection between human domination of the planet and the discovery and use of oil.
This new documentary film exposes our deep-rooted dependency on the availability of fossil fuel energy and examines the future implications of peak oil – the point in time when the amount of petroleum worldwide begins a steady, inexorable decline.
Journeying from the west African delta to the heart of the Amazon rainforest, from Washington to Shanghai, from early man to the unknown future, CRUDE IMPACT chronicles the collision of our insatiable appetite for oil with the rights and livelihoods of indigenous cultures, other species and the planet itself. A thought-provoking story of discovery, sorrow, outrage, humor and ultimately, hope.
(Oct 2006)
Showings of the documentary have started.
Article on the filmmaker in the Manchester Union-Leader (see next item).

He made money, now he's making movies (about PO)
John Clayton, Manchester Union-Leader (New Hampshire)
…[Oil] is at the heart of "Crude Impact," and [software entrepeneur Jay Wood] has invested a substantial amount of time and money to explore the volatile interconnection between oil and mankind.
"For more than a year, we traveled all over the world, interviewing people we felt best understood the history of oil's impact on our world and the issue of 'peak oil,'" he said. "'Peak oil' is the point in time where the quantity of oil extracted from the earth begins to irreversibly decline, and the ramifications of 'peak oil' are terrifying."
Nowhere, he claims, are the ramifications more terrifying than in regions like the Amazon rainforest, which is where he had the epiphany that lead him to make "Crude Impact."
"I had gone on a trip to Ecuador in August of 2004 with a group called the Pachamama Alliance," he said. "It's a group that works with the indigenous people to help protect the rainforest from oil development. The Achuar people there had never had contact with the rest of civilization until the 1970s. Texaco and oil development is what forced it upon them, and after seeing what's happened there since — deforestation, water pollution, skyrocketing cancer rates — I knew that, when I came back, I had to do something.
"I never knew about this — the impact of oil extraction and oil usage — and when I tried to determine the best vehicle for getting this message out, I decided it was film."
(8 Oct 2006)
Website for the documentary "Crude Impact".

Video: Oil, Smoke and Mirrors
Ronan Doyle, Google Video
Oil, Smoke and Mirrors is an independent 50 minute documentary on peak oil, 9/11 and the war on terror.
(5 Oct 2006)

Contributor Rob Bracken writes:

Fabulous, slickly-produced 50-min video on Peak Oil and more. Yes, it alleges 9-11 was an inside job – and has Heinberg saying so. Really good, provocative stuff. A must see.
The unanswered questions of the 9-11 story are also raised in the film by former UK environment minister under Blair, Michael Meacher, former state-secretary in the German Defense Ministry, Andreas von Bülow and others.
-AF

Peak Oil vs. The Pied Piper of Ethanol
monkeygrinder, Peak Energy
Critics of peak oil often sidestep dealing with issues of geology and production, and dive straight in with attacks on the resulting scenarios, as if that might falsify the science and the observations of a century.
A favored rubric used in the critique of "gloomy" scenarios is to pseudo-falsify them by associating them with religion. In other words, should one claim people around the world are going to starve, and worse that overfed Americans might hit their ideal weight, one will be tarred with the brush of the Christian Apocalypse. In this way, many rationalists are lumped in with those who take the book of Revelation literally.
Thus categorized, they are humiliated and forgettable — in the minds of critics.
(28 Sept 2006)

Peak Oil: US Democracy Under Threat
Ryan McGreal , PUB
The global economy is set to start shrinking as the supply of oil goes into decline. Big business will fight ruthlessly to protect their share of the pie.
~~
I've long been concerned with developments south of the border, but in the past I consoled myself that America has flirted with domestic fascism before and eventually righted itself.
This time it may be different: for the first time, the long global trajectory of economic growth is on the cusp of a permanent reversal.
(6 Oct 2006)

Audio: Albert Bates & Peak Oil
Mary Mancini and Freddy O'Connel, Liberadio(!) Interview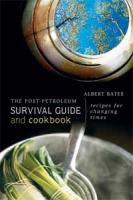 Albert Bates is a permaculture instructor at the Ecovillage Training Center at The Farm community in Summertown, Tennessee and a Pulitzer Prize losing author of eleven books, including Shutdown: Nuclear Power on Trial (1979) and Climate in Crisis: The Greenhouse Effect and What We Can Do (1990). His Post-Petroleum Survival Guide and Cookbook: Recipes for Changing Times is available in October from New Society Publishers. In this interview he answers our questions about Peak Oil – the idea and the movement.
Visit The Farm for more info.
Listen to our interview with Albert Bates
(25 Sept 2006)
Rob Hopkins has a review of Albert's The Post-Petroleum Survival Guide and Cookbook – Recipes for Changing Times over at TransitionCulture.org. -AF

A video interview with Debbie Cook about energy policy
Marc Strassman, Etopia Media
Huntington Beach, California, City Councilmember Debbie Cook talks about energy policy and the Association for the Study of Peak Oil & Gas-USA conference in Boston on October 26, 2006
The Association for the Study of Peak Oil & Gas-USA (ASPO-USA) is a non-profit, non-partisan research and public education initiative to address America's peak oil energy challenge and is the U.S. branch of the Association for the Study of Peak Oil & Gas (ASPO).
The Energy Policy Channel spoke yesterday with Ms. Cook about her views and work on energy policy and about the ASPO-USA 2006 Boston World Oil Conference, "Time for Action: A Midnight Ride for Peak Oil," scheduled for October 26-27, 2006, in Boston, Massachusetts.
Huntington Beach City Councilmember Cook will moderate a panel discussion at that conference.
(7 Oct 2006)

Audio: Peak Oil and Permaculture
Peter Mares, ABC Radio National
Today on the program, a public forum on the future of oil and what falling global reserves may mean for our economies and societies.
A recent Senate committee interim report said Australia should be planning now for 'peak oil' – the point at which international demand for oil begins to outstrip supply.
Research bodies liked the International Energy Agency and some oil company executives dispute the peak oil theory but there are also plenty of well credentialled peak oilers, including some experts with considerable experience in the industry, who say peak oil is a real problem.
Today, in a public forum I hosted in Melbourne in early September, we hear from five people who believe, like the Senate Committee, that Australia needs to start preparing now for future oil security.
Guests:
Richard Heinberg
Journalist and Peak Oil writer
David Holmgren
Permaculture originator
Ken Davidson
Journalist, The Age
Elizabeth Heij
Facilitator of the CSIRO Sustainability Network
Philip Sutton
President, Sustainable Living Foundation
(8 Oct 2006)

Peak oil: Is the oil running out?
Zoe Kenny, Green Left
"Dear reader, civilisation as we know it is coming to an end soon." This is how the Peak Oil: Life After the Oil Crash website introduces itself. Peak oil is the theory that the world's oil supplies will soon reach their highest output, their peak, after which there will be a rapid decline in output. The website argues that "the consequences (if true) would be unimaginable. Permanent fuel shortages would tip the world into a generations-long economic depression. Millions would lose their jobs as industry implodes. Farm tractors would be idled for lack of fuel, triggering massive famines. Energy wars would flare."
(11 Oct 2006)
From an Australian soclialist newspaper. -AF