"There I saw you fallen face down on a rough bed,
With only the shore where the waves sound ceaselessly
To serve as pillow on which to rest your head.
If I knew your house, I would go there with tidings;
If your wife but knew, she would come to seek you out.
But not knowing even the way to follow,
She must be waiting with anxious, yearning heart."
(From "On seeing a dead man among the rocks of Samine Island in Sanuki" by Kakinomoto no Hitomaro, 690 AD.)
More than 1,300 years have passed since Kakinomoto no Hitomaro, known in Japan as one of the 36 Immortals of Poetry, wrote these lines. But the poet's sadness and yearning to assist an anonymous man who may have fallen victim to the elements of nature continue to resonate today. A similar empathy and desire to help has spurred truly remarkable efforts by communities on both sides of the Pacific Ocean — linking the livelihoods of people separated and connected by the world's largest body of water.
On 1 April 2014, 17,000 kilometers from Japan, an 8.2 magnitude earthquake struck off the northern coast of Chile causing a tsunami that resulted in lives lost and severe damage along the Chilean coastline.
An estimated 120–150 artisanal fishing boats were seriously damaged or destroyed by the waves, while countless fishing nets and other gear were washed away.
Zoila Bustamante Cardenas is the leader of Conapach, one of Chile's largest small-scale artisanal fishers organizations, and she recently spoke of the marathon-like efforts that will be needed to clean up the debris and deal with the damage. In a recent statement, she explains how many fishers have experienced a "total loss" and that support is needed "to facilitate their return to work."
Buildings can be repaired, holes in nets can be mended and new fishing boats can be built, but what about the 600–800 fishers and their families who have been directly affected by the disaster? Without their connection to the sea — the source of their livelihoods — they are in a vulnerable position even as recovery efforts get underway. In a world inhabited by over 7 billion people, it may seem like a small story, but for every one of these fishers and their families, the coming days, weeks and months will be filled with uncertainty.
Iquique, Chile tsunami slideshow by Masahiro Shida.
But now, let us once again cross those 17,000 kilometres of ocean back to Japan, just like traces of the tsunami generated by the 1 April 2014 earthquake reached the town of Kuji in Iwate Prefecture 22 hours later, registering as high as 60 centimetres.
This is the same coastline struck by the tragedy of the 11 March 2011 earthquake and tsunami, from which the region is still working to recover. Indeed, it was a sleepless night for many along Japan's Pacific Coast, who remembered tsunamis generated by earthquakes in Chile in 1960 and 2010 that travelled across the ocean to cause severe damage in Japan. Likewise, the 11 March 2011 tsunami not only devastated Japan's shores, but also swept houses off their foundations and into Kealakekua Bay on Hawaii's Big Island before eventually arriving on Chile's shores, causing an estimated US$6 million in damages to Tongoy, Chile's fishing industry.
Perhaps no one could understand the vulnerability currently faced by the artisanal fishers in Chile as well as small-scale fishers along the coast of Japan's Tohoku region. In early 2011, Yoshimasa Koizumi had recently left an office job in Tokyo and had just finished his apprenticeship to begin a new life as an oyster farmer in the Urato Islands of Miyagi Prefecture. When the disasters of 11 March 2011 struck and the tsunami washed away the facilities and equipment that he and his fellow farmers and fishers relied upon, he launched a call for support through social media. The call came on 11 April 2011, exactly one month after the disasters, and a total of 13,962 individuals responded, contributing over ¥180 million (about US$1.75 million) to recovery efforts.
At a crucial point, when there was the threat of community ties dissolving and a full-scale exodus from the area, these donations made it possible for fishers to restart their activities in the Urato Islands almost immediately. The scale of natural disasters can sometimes leave governments struggling to adequately address a multitude of different needs and these local efforts made the community resilient as it sought to bridge a crucial period in the recovery process.
"After the 2011 Great East Japan Earthquake and Tsunami, many people provided warm support to the Urato community, and this enabled fisheries and aquaculture activities to be restarted very rapidly. It also provided a great impetus to embark on recovery efforts and the region's restoration. The same holds true for Chilean fishers today," said Koizumi. He sees the period directly following a disaster as a critical stage for enabling successful recovery of livelihoods and the community.
Recognizing that artisanal fishers in Chile must be at exactly this stage now, Koizumi has once again launched a social media campaign to collect donations to support recovery efforts in Chile. There is added significance, for once again the call has been timed to match the one-month anniversary of the disaster, and already a number of supporters have started reposting and sharing the call to spread awareness and generate support.
Considering the manifold challenges that Japanese communities are still facing more than three years after 11 March 2011, it is a remarkable effort. Bustamante Cardenas of Conapach has said that for affected fishers to resume their activities in Chile, the most urgently needed pieces of equipment are fishing nets and outboard engines.
The ripple effects of such positive activities are difficult to overestimate. Shared experiences of recovering from earthquakes and tsunamis have spanned oceans and connected communities, deepening their ties and fostering greater resilience.
Scientists have predicted that natural disasters will grow increasingly frequent in coming years and even today the global damages from natural disasters already far exceed official development assistance (ODA). A 2013 report by the United Nations Office for Disaster Risk Reduction, for example, found that natural disasters had caused around US$2.5 trillion in damages since 2000, almost double ODA, which totaled around US$1.2 trillion over the same period. United Nations Secretary-General Ban Ki-moon emphasized that there has been too much focus on short-term returns over sustainability and resilience.
Even the most well-intentioned bureaucracy or government with the best disaster risk reduction plans may be overwhelmed by the scale of unexpected natural events. Responses may be delayed or uncoordinated. Grassroots and community efforts can transcend such challenges and offer immediate support — or as Koizumi puts it, "it is the same ocean that provides livelihoods for the fishermen in Chile and in Urato, so we sincerely believe that the sooner Chile's fishermen can return to the ocean the better."
It should perhaps be noted in closing that Kakinomoto no Hitomaro's poem begins by singing the praises of nature: "Is it the land's nature that attracts our tireless gaze? Is it the gods' nature that inspires us with such awe?"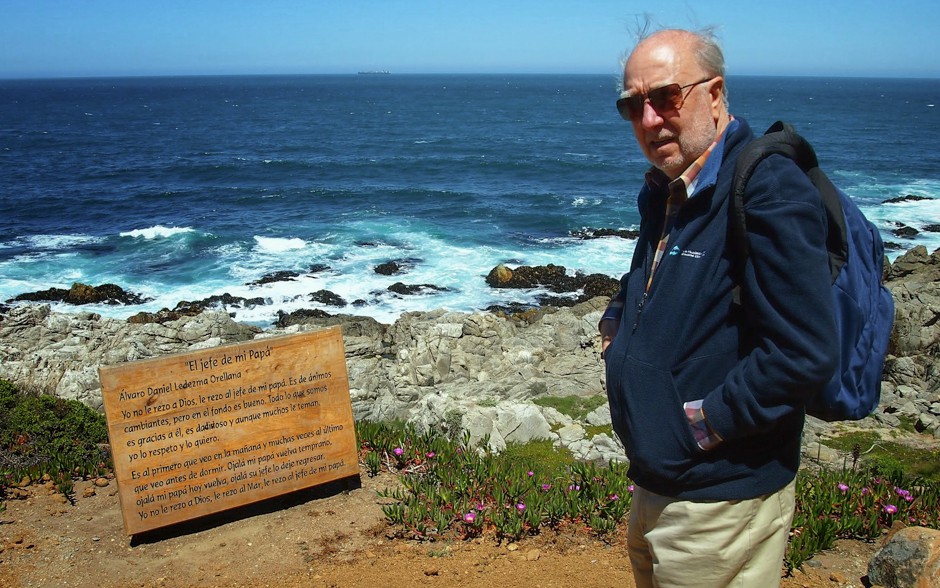 Professor Juan Carlos Castilla stands next to the poem "El jefe de mi Papá" written by 12-year-old Chilean boy, Alvaro Daniel Ledezma Orellana. Photo: © Akane Minohara.
Indeed, nature is bountiful — the source of livelihoods and joy — but at times a source of sorrow as well. Just as the seas connect communities and nations, so too have they connected generations, as we see Kakinomoto no Hitomaro's reverence reflected in this poem written in 2012 by a 12-year-old Chilean boy named Alvaro Daniel Ledezma Orellana:
"I do not pray to God, I pray to my father's master.
His mood is always changing, but he has a good heart.
Everything that we are is thanks to him.
While many fear him, I respect him, I love him.
"He's the first one I see in the morning,
And often the last one I see before going to bed.
Hoping my father will return home early,
Hoping my father will return today,
Hoping his master lets him return,
I do not pray to God, I pray to the Sea, I pray to my father's master."
(From "My father's master" by Alvaro Daniel Ledezma Orellana, 2012.)