Click on the headline (link) for the full text.
Many more articles are available through the Energy Bulletin homepage

H2OIL
Shannon Walsh, h2oil.com
Ever wonder where America gets most of its oil? If you thought it was Saudi Arabia or Iraq you are wrong. America's biggest oil supplier has quickly become Canada's oil sands. Located under Alberta's pristine boreal forests, the process of oil sands extraction uses up to 4 barrels of fresh water to produce only one barrel of crude oil.
It goes without saying that water — its depletion, exploitation, privatization and contamination — has become the most important issue to face humanity in this century. At the same time, the war for oil is well underway across the globe. A struggle is increasingly being fought between water and oil, not only over them.
Alberta's oil sands are at the centre of this tension. As the province rushes towards a large-scale extraction, the social, ecological and human impacts are hitting a crisis point. In only a few short years the continent will be a crisscross of pipelines, reaching from the arctic all the way to the southern US, leaving toxic water basins the size of Lake Ontario, and surface-mines as large as Florida.
H2Oil follows a voyage of discovery, heartbreak and politicization in the stories of those attempting to defend water in Alberta against tar sands expansion. Unlikely alliances are built and lives are changed as they come up against the largest industrial project in human history.
Ultimately we ask what is more important, oil or water? And what will be our response?
With hope and courage H2Oil tells the story of one of the most significant, and destructive projects of our time.
(2009)
Sent in by EB reader wagdog, who says:
Have a look at an accompanying at animation for the documentary.

Paul Ehrlich interview (audio)
Philip Adams, ABC News (Australia) Late Night Live
Paul Ehrlich's book, The Population Bomb (1968), caused great controversy with its predictions of mass starvation in the 70s and 80s due to over-population. Forty years later, with the world's population almost doubled in that time, Ehrlich's main message is increasingly relevant – that the earth has a finite carrying capacity and it cannot sustain the current rate of human population growth and resource depletion. In this conversation, Paul Ehrlich talks about the escalating environment pressures and some potential solutions.
(19 Nov 2009)
Sent in by EB contributor Michael Lardelli.

What is Land For?
Michael Winter and Matt Lobley, Editors, earthscan.co.uk
In recent decades agricultural commodity surpluses in the developed world have contributed to a mantra of 'land surplus' in which set-aside, extensification, alternative land uses and 'wilding' have been key terms in debates over land. Quite suddenly all this has changed as a consequence of rapidly shifting commodity markets. Prices for cereals, oil seeds and other globally traded commodities have risen sharply. A contributor to this has been the shift to bioenergy cropping, fuelled by concerns over post-peak oil and climate change. Agricultural supply chain interests have embraced the 'new environmentalism' of climate change with enthusiasm, proudly proclaiming the readiness of the industry to produce both food and energy crops, and to do so with a neo-liberal confidence in markets to determine the balance between food and non-food crops in land use.
But policy and politics have not necessarily caught up with these market and industry-led changes and some environmentalists are beginning to challenge the assumptions of the new 'productivism'. Is it necessarily the case, they ask, that agriculture's best contribution to tackling climate change is to grow bioenergy crops or invest in anaerobic-digesters or make land over for windfarms? Might not there be an equally important role in maximising the carbon sequestration or water-holding properties of biodiverse land? What is Land For? tackles these key cutting-edge issues of this new debate by setting out a baseline of evidence and ideas.
(Oct 2009)
Significant publication written at the policy level. The Table of Contents is listed on the website page. -KS

Sustainability and spirituality (video)
Eric Stewart, The Daily Loaf
I recently presented a speech on sustainability for a local Unitarian Universalist church in Odessa. The scenery was amazing: it was right near some old horse farms, the wind was blowing and when everyone was silent it was eerily peaceful. I had fun, though feeling a bit unprepared; sometimes I get anxious but my passion keeps me going. Every speech I do I learn something new about myself and about how others feel about sustainability and our future.
Shortly after the speech, I sat and had coffee to speak more personally with some of the dozens of attendees. Many came up to give condolences about how they felt their generation was leaving a world far worse off than it was given to them. Others had anger in their hearts about how the present administration is acting.
In my heart I feel their pain but I don't blame or shame anyone for the challenges that my generation will have to face. Challenges are there for us to meet not be deterred by. We didn't go to the moon because it was easy, we went because it was a challenge worthy of our society. I hope we can come together to face these threats, rather than have them be brought upon us like Fascism in the 1940s. The societal impacts of peak oil and climate change should be a beacon for humanity coming together cooperatively.
Creating a peaceful and permanent society on this planet is the most worthy cause my generation can work towards…
Unitarian Universalist speech from Code Green Community on Vimeo.
(10 Nov 2009)

The Hubbert Peak Theory of Rock, or, Why We're All Out of Good Songs
lee, overthinkingit.com
Many rock purists and music snobs (myself included) often lament the quality of most modern pop/rock music. "Music these days is so trite and derivative," they say. "It's just been downhill since the 60's and 70's. Those were the days."
A few years ago, Rolling Stone magazine added fuel to the music snobbery fire with its "500 Greatest Songs of All Time" list. Anyone casually paging through the list would notice that the bulk of the list was comprised of songs from the 60's and 70's, just like the music snobs always say.
I, however, wasn't content with the casual analysis. So I punched the list into Excel, crunched some numbers, and found an interesting parallel between the decline of rock music quality and, of all things, the decline in US oil discovery and production: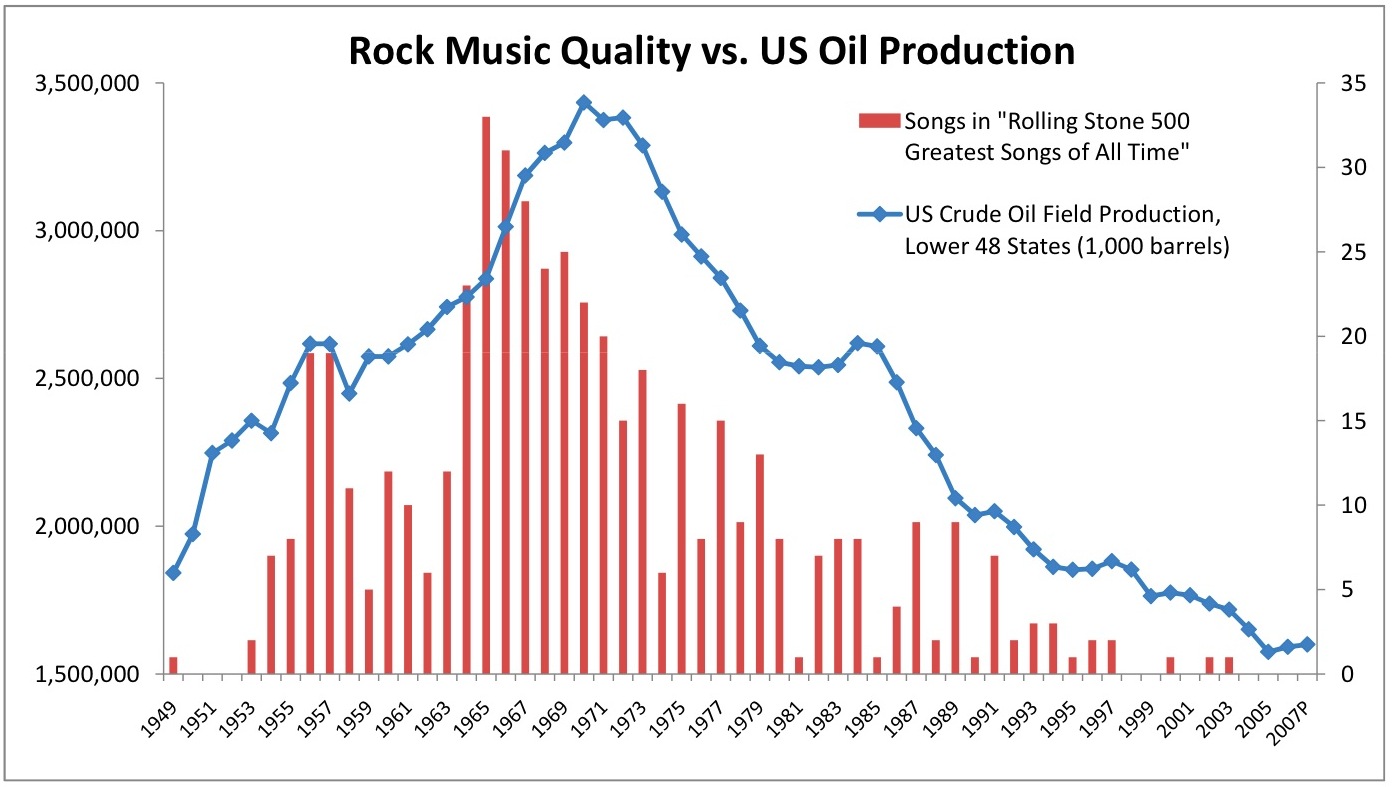 (Sources: Rolling Stone Magazine, US Department of Energy)
…
(23 Sept 2009)